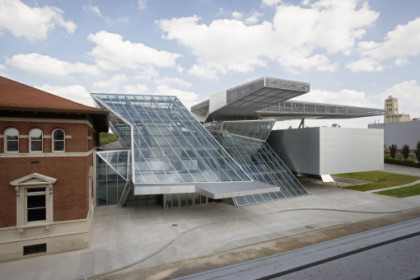 Akron Art Museum
Akron, Ohio

The widely acclaimed Akron Art Museum, dedicated to enriching lives through modern art, showcases regional, national and international art created since 1850. The museum's permanent collection houses over 4,000 objects. Particular areas of strength include American painting and sculpture since 1960, 20th-century American and international photography and American impressionist and tonalist paintings. The museum also highlights modernism and regionalism in northeast Ohio from the 1910s to 1950, including the work of William Sommer, this region's most important historical artist. The Akron Art Museum is the only place in the nation where Sommer's work is on permanent view.
In addition to the collection galleries, a dozen special exhibitions each year present celebrated artists in various media, including painting, sculpture, photography and video.
Founded in 1922, the Akron Art Museum re-opened to the public in July 2007 in a breathtaking expansion designed by Austrian architectural firm COOP HIMMEL(B)LAU. Spanning three centuries and featuring over 20,000 square feet of gallery space, the Akron Art Museum combines a late nineteenth-century brick and limestone building with the twenty-first century John S. and James L. Knight Building, a soaring glass and steel structure described by critics as a work-of-art itself. In 2008, after winning one of Royal Institute of British Architects' International Awards, the museum was further honored by being chosen as one of only three worldwide finalists for the Lubetkin Prize.
In addition to the collection and special exhibitions, the Museum also offers a host of dynamic educational programs for all ages including family drop in events, films, lectures, art workshops and concerts.