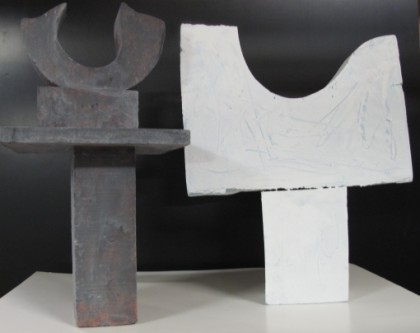 To Dorothy and Herb
overall (A:gray): 22 1/4 x 12 x 12 inches (56.5 x 30.5 x 30.5 cm.), overall (B: white) 21 3/4 x 16 3/4 x 4 inches (55.2 x 42.5 x 10.2 cm.)
Date: 1997
French-born Kirili's work has been influenced by, and found inspiration in a wide range of sources including art and artifacts from Africa, India, Nepal, and the Americas, and from ancient art to the sculpture of David Smith. His sculptures from the late seventies up to today portray his interest in masculine and feminine forces, especially the oldest form of this representation, the Hindu yoni and lingum.
Institution

Huntington Museum of Art


Accession: 2008.10.15AB

Exhibitions

The Dorothy and Herbert Vogel Collection: Fifty Works for Fifty States. Huntington Museum of Art, Huntington, West Virginia, August 28, 2010 – November 28, 2010.

The information related to this object is presented on behalf of Huntington Museum of Art. Questions or comments?