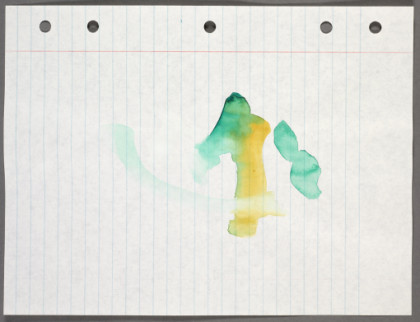 Loose Leaf Notebook Drawings-- Box 14, Group 7
Drawing
: Watercolor on five sheets of wove paper
10 1/2 x 8 in. (each sheet)
The Vogels met Richard Tuttle more than forty years ago. Since then, the collectors and artist have forged a unique bond, a relationship closer to that of artistic collaborators. Art historian Jack Cowart has described Tuttle's work as "a kind of spiritual engine that drives a major part of [the Vogels'] broad collection." The Vogels have acquired over four hundred works by the artist, a testament to their deep connection.
Institution

RISD Museum, Rhode Island School of Design


Accession: 2009.59.50

Exhibitions

The Dorothy and Herbert Vogel Collection: Fifty Works for Rhode Island. RISD Museum, Providence, Rhode Island, July 20, 2012 – December 2, 2012.

The information related to this object is presented on behalf of RISD Museum, Rhode Island School of Design. Questions or comments?