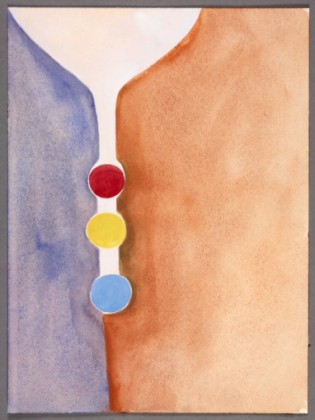 Untitled
12 3/16 x 9 1/16 in.
In the late 1980s Jill Levine began experimenting with basic geometric shapes made out of Styrofoam to create the armature for her sculptures. Exploring the physical and spatial interplay between forms, Levine also created drawings such as this one, which shows three circles cradled between two larger forms. The circles appear to push the pink and blue forms apart, creating a tension between the strict geometry of the circles and the more organic forms that surround them, further heightened by Levine's contrasting paint application techniques. While the hard-edged circles are painted with a dry, opaque watercolor, the blue and pink forms are rendered in translucent washes of pigment that fade as they reach the edges of the composition.
Institution

RISD Museum, Rhode Island School of Design


Accession: 2009.59.17

Exhibitions

The Dorothy and Herbert Vogel Collection: Fifty Works for Rhode Island. RISD Museum, Providence, Rhode Island, July 20, 2012 – December 2, 2012.

The information related to this object is presented on behalf of RISD Museum, Rhode Island School of Design. Questions or comments?