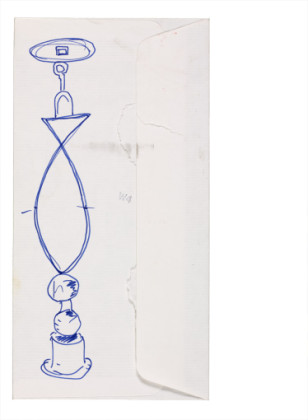 Untitled (drawing of a sculpture in progress at foundry)
7 3/4 x 4 in.
The Vogels first saw Michael Lucero's sculptures at a fellow collector's house in Denver and avidly collected both the artist's sculptures and his drawings while also developing a friendship with him. This sketch is a study for Magician, a sculpture that Lucero created the same year. The Vogels were drawn to works that conveyed the immediacy of an artist's thought process, and this drawing demonstrates just that. Rather than sitting down to sketch, the artist used whatever was immediately available—here an ordinary envelope—to capture his ideas.
Institution

RISD Museum, Rhode Island School of Design


Accession: 2009.59.18

Exhibitions

The Dorothy and Herbert Vogel Collection: Fifty Works for Rhode Island. RISD Museum, Providence, Rhode Island, July 20, 2012 – December 2, 2012.

The information related to this object is presented on behalf of RISD Museum, Rhode Island School of Design. Questions or comments?