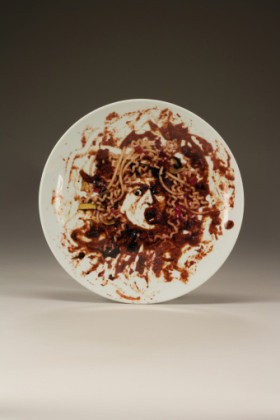 Photo by Lyle Peterzell, © Vik Muniz/Licensed by VAGA, New York, NY
Untitled (Re-Creation of Caravaggio's Medusa) (Peter Norton Family Christmas Project)
Sculpture
: Bernardaud Limoges porcelain plate
diameter: 12 3/8 in.
Brazilian-born Muniz has become known for using everyday items such as sugar, chocolate, cotton, thread, wire, clay dust, dirt, and garbage, and configures them into a realistic and recognizable image.
In this work, Muniz has recreated Caravaggio's 1590 painting, Medusa in pasta and marinara sauce. The image was then photographed and transferred to a porcelain plate. This work was created for the Peter Norton Family Christmas Project, 1999.
Institution

Exhibitions

The Dorothy and Herbert Vogel Collection: Fifty Works for Fifty States. Huntington Museum of Art, Huntington, West Virginia, August 28, 2010 – November 28, 2010.

The information related to this object is presented on behalf of Huntington Museum of Art. Questions or comments?