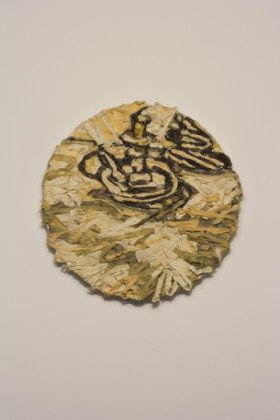 Photo by Lyle Peterzell
Candle
diameter: 18 3/4 in. (irregular); depth: 1 1/2 in.
Zucker constructs highly tactile pictures, where the subjects merge into, and emerge from, dense structures of materials. Here, he has soaked canvas strips in Rhoplex, a pigmented acrylic medium, and laid them on a canvas. The image of a burning candle, "drawn" with dark grey strips, is easier to see from a distance.
Keywords

Institution

Delaware Art Museum


Accession: 2008-66

The information related to this object is presented on behalf of Delaware Art Museum. Questions or comments?