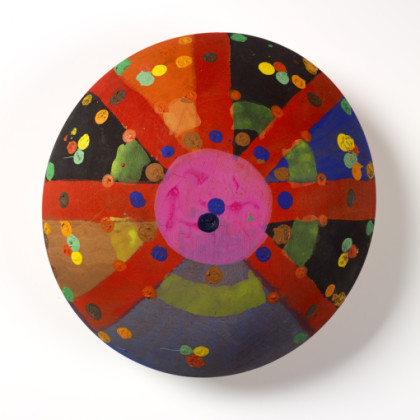 Untitled
22.2 cm (8 13/16 inches) (diameter)
Alan Shields made an impression on the New York art world in the late 1960s with three-dimensional "paintings" made of brightly painted strips of canvas and other fabrics embellished with sewing-machine stitched patterns and psychedelic colors and affixed to armatures, woven over frames, and hung from the ceiling. The multi-colored dots, radiating lines, and concentric circles on this painted wooden bowl recall a mandala motif or a ritualistic folk object. Embodying what some critics called "counterculture modernism," Shield's work in a diverse range of materials was in sharp contrast to the cool austerity of 1960s Minimalism.
Institution

RISD Museum, Rhode Island School of Design


Accession: 2009.59.35

Exhibitions

The Dorothy and Herbert Vogel Collection: Fifty Works for Rhode Island. RISD Museum, Providence, Rhode Island, July 20, 2012 – December 2, 2012.

The information related to this object is presented on behalf of RISD Museum, Rhode Island School of Design. Questions or comments?